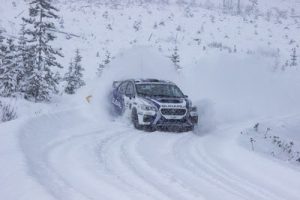 The Subaru Rally Team Canada (SRTC) driver Antoine L'Estage and co-driver Darren Garrod have won the 2016 Driver's and Co-Driver's Championships, securing the titles at the Big White Winter Rally in Kelowna, BC the weekend of December 10-11, 2016.
L'Estage claimed his 9th Canadian Rally Championship (CRC) Driver's title in impressive fashion, tackling notoriously wintery conditions to lead the rest of the pack by a margin of more than 10 minutes.
"Winning the Big White Rally the first time it is a national event is a really good feeling," said L'Estage. "We are really happy to have won the championship title for Subaru at the last event, and now for Darren and I to clinch the driver and co-driver titles here."
"It's been a good season with great support from Subaru, and the Rocket Rally team."
Having already clinched marque title for a record 12th time at the Rally of the Tall Pines, Subaru continued to exert its dominance with a total of eight Subaru teams finishing in the top ten.
Championship winners will be awarded trophies at a gala event in Halifax in January. The 2017 season begins shortly after, at the Rallye Perce Neige in Maniwaki, Quebec in February.