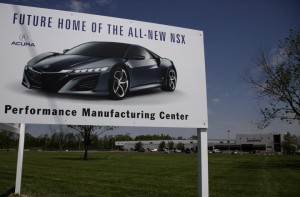 Acura's all-new Performance Manufacturing Center (PMC), located in Marysville, Ohio, will begin serial production of the next-generation Acura NSX supercar in late April 2016, with customer deliveries to begin thereafter.
The PMC is the exclusive global manufacturing facility for Acura's NSX supercar and is structured around an innovative blend of people and technology. Combining human craftsmanship and technological innovation, the PMC utilizes new approaches to vehicle construction, paint, assembly and quality confirmation to deliver on the Acura brand DNA of Precision Crafted Performance.
The Acura supercar will be developed entirely in-house and, like the NSX itself, is a clean-sheet development—a manufacturing facility designed around the NSX's unique Multi-Material Body and aluminum-intensive space-frame design and optimized for low-volume production of high-performance specialty vehicles.
"All of the innovative thinking and hard work that has gone into the creation of this state-of-the-art manufacturing facility has fulfilled our goal to build a supercar in America," said Clement D' Souza, the engineering large project leader of the PMC, who managed the creation of the facility. "The incredible passion and challenging spirit of our highly skilled associates enabled us to develop and build a new supercar factory from the ground up simultaneously with the ground-up creation of an incredible new supercar in the Acura NSX."
The PMC was designed to innovate both the means and the methods of producing low-volume specialty cars and to explore new ideas for next-generation Acura craftsmanship and quality. The efforts of PMC associates to innovate many areas of the NSX manufacturing process have led to the application for 12 U.S. patents. The PMC employs approximately 100 associates that support and are directly engaged in body construction, painting, final assembly and quality confirmation, working in concert with advanced robotics to build the NSX to the highest levels of quality and craftsmanship.
Complementary production of the Acura NSX's bespoke, 75-degree, twin turbocharged V-6 engine takes place at the company's nearby Anna, Ohio engine plant and is undertaken by a small group of master engine builders.
With trial production underway and serial production starting in April, 2016, Acura is revealing additional details of the innovative manufacturing processes at the PMC and Anna Engine Plant.
The 2017 Acura NSX will have a Manufacturer's Suggested Retail Price (MSRP) of $189,900 in Canada  and will top out at $250,100 when equipped with all available factory features and options1.
As Acura's first build-to-order vehicle, customers will be able to design their NSX by selecting one of eight rich exterior colours and four interior colour schemes available in three different seating surface options.
Customers can further customize their NSX through several exterior and interior features including three-wheel designs with painted or polished finish, carbon-ceramic brake options, a carbon fiber interior sport package, carbon fiber roof, and more.