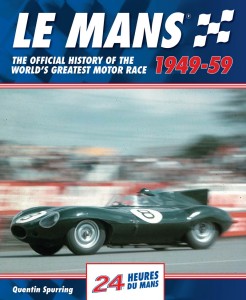 This book is, as it states on the cover, 'The Official History of the World's Greatest Motor Race,' and as such deals with much more than just the cars and drivers who took part.  What it reveals, as a history should, is the very fabric of the revival and the very French complexity of the rules and running at the famous
Circuit de la Sarthe.  Starting in 1949 within four years of the death and destruction Second World War the desire by the Automobile Club de l'Oest to run this race talks to the need of many to put the 1939-1945 years behind them and look to the future with a new mindset.  The site, sometimes a British or Luftwaffe base and even a prison camp, had to be reconstructed and made suitable for racing again.
Quentin Spurring, well known motoring journalist and editor of several automobile magazines has reported on the 24 Heures du Mans on no less than 26 occasions and his vast knowledge of the event comes through in spades.  For quick reference the lack of captioning is a nuisance but, in fairness, all the information one could need is contained with in the text which is well sorted by year, competitors, manufacturers and also includes the complex regulation changes that were promulgated.
The enjoyment that this publication gives it the bewildering array of detail; the adventures of the participants, fires, failures and fortitude, it delivers a real 'feeling' of the toughness of this amazing event.  Of course the disaster of 1955, when eighty-one people lost their lives, is covered; this terrible accident is well dissected and explained.  The period covered was the end of the road for some manufacturers and the developmental start for others and this is well covered; Delage, Deutsch-Bonnet, Delahaye, Fraser Nash, Alvis, Aston Martin, Jaguar, Healey, Singer, Ferrari, Jowett, Mercedes, Lancia, Talbot, Maserati, MG, Cunningham, Triumph, Gordini and so many more . . . how many are still around today?
The photography, resplendent on every page, compliments this history perfectly and the program and poster art in color are also an interesting reflection of the times.  If you are an aficionado of distance motor racing and Le Mans in particular this book is a 'must'.
Published: 2011
Binding: Hardcover
No. Pages: 384
Dimensions: 23 x 28
Illustrations: 40 colour & 300 B&W illustrations