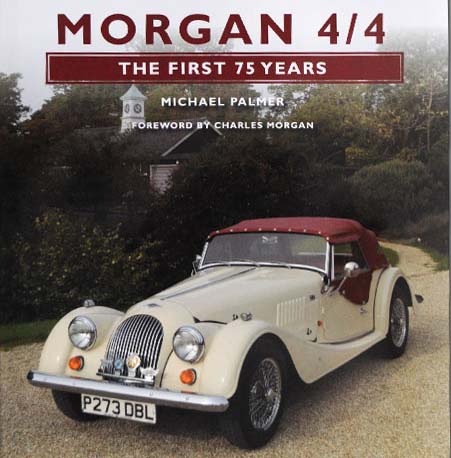 Reviewed by Mike Tate
The Morgan Motor Company itself is batting just over a century in cricketing terms, but the Morgan 4/4 as an automobile within the Morgan marque has been 75 years in production and is surely the very DNA of this traditional manufacturer.  Even today, that particular 4/4 look is still recognizable in the very latest designs leaving the factory.
Morgan 4/4: The First 75 Years takes the reader from conception and development through the full history of production and even gives a glimpse at future departures as the company currently sees them.  From the old flat-grille fronted 4/4s of the 1930s to the waterfall grille design that still carries that particular Morgan look, even in today's Ford Zetec S.E.-engined Aero Racing Competition 4/4, it's all in here with interesting Owners' Experience inserts that colour the views of author and Morgan aficionado Michael Palmer.
To this day, all Morgans are still hand-made in the true sense of the word and the tradition of craft is alive and well at the factory.
This book clearly pays homage to this fact as it takes a look within the production facility, in the small town of Malvern in Worcestershire, England, where Charles Morgan, his father and grandfather, have kept the family business alive and well even through troubled economic times and the whims of changing fashion and fancies.
Motor competition in its many forms: trials, mud-plugs, sprints, rallies, time trials, hill-climbs as well as full bore road and track racing, were always relished by Morgan 4/4 owners and this fact is well covered by Palmer.
The photography, featured on almost every page and from various sources, is crisp and well reproduced.  Morgan enthusiasts, who are known for their top-down and damn-the-weather attitude, will relish this look at their wonderful 4/4s and even if they don't own one this reference and history should end up in their library or even on a shelf in their garage if that's where they want to keep it!
Published by The Crowood Press
Mike Tate is a motoring aficionado, retired racer, car historian, Concours judge and a past president of the Vintage Racing Club of British Columbia.
Auto-Books is sponsored by Wilkinson's Automobilia.