Photos: Cam Hutchins
The 2022 Vancouver ABFM (All British Field Meet) at VanDusen Botanical Garden ended the day with an Awards Ceremony that began with a lead-in by pipers Rosalie MacDonald and Ember Schira from the British Columbia Regiment Irish Pipes and Drums (affectionately referred to as "The Irish").
Patrick Stewart, co-organizer of the Vancouver ABFM, thanked the sponsors and vendors whose involvement and financial support made the event possible. The volunteers and marshals, headed by the various club members under the direction of Mike McChesney—who worked organizational wonders with his spreadsheet layouts. And the VanDusen staff, under the leadership of Sinfor Wong, for the use of the unique and beautiful Garden venue.
He acknowledged the ABFM team of hard-working and unbiased judges: Nigel Matthews (absent this year because of a conflicting overseas appointment), John Allen, Ken Miles, Olivier Spilborghs, Lionel Hondier, David Gilmour, Cedric Carter, Ted Laturnus, Lain Ayre, Wes Stinson, Ian Wood, Jim Hilton, Kellen Voyer, Martin Phillips, Don McDonald, Rhodri Windsor-Liscombe and an enthusiastic team of student judges from Young Guns Garage.
Stewart also thanked the car entrants for showing up in style and continuing to make the event "The Greatest Show on British Wheels."
He acknowledged Ron Kubara and the Vancouver Lotus Club members for a  record number of 48 Lotuses on the field, including a 1991 Lotus-developed Opel Omega/Vauxhall Carlton, with a 282km/h performance, bettered by only a handful of exotic supercars.
Stewart also mentioned the number of Triumph Stags, English Fords, and Jaguar E-types that showed up to celebrate their anniversaries, having been denied their rightful celebratory years because of the COVID-19 pandemic.
SPONSORS' AWARDS
The first Vancouver ABFM Sponsor Award was the YOUNG ENTRANT AWARD—sponsored by Silk Cat Automotive to recognize a classic car owner aged 30 or less. Lucas Wagorn, the son of Silk Cat Automotive owners Greg & Elizabeth, presented the 2022 Young Entrant Award. Car #483 from Vancouver, BC: Rowan Fletcher, 1977 Mini 1000.
Judges' comments: This is a fun, functional and educational vehicle for the next generation of classic car mechanics. The Mini addiction is being passed on for good (or bad), depending on how tricked-out one likes a classic Mini.
Continuing the youthful theme, Stewart introduced some members of Young Guns Garage, a program by Youth Unlimited that provides connection and hands-on skills through an automotive community. Young Guns Garage manager Chad Gelderman and Tyson Moore from Hagerty Insurance directed the group through the judging process of a select number of cars on the field. Their choice for the YOUTH JUDGING AWARD was Car #299 from North Saanich: Barry McCallan's 1975 Jensen Interceptor.
Honourable Mention went to Car #48 from White Rock: Michael Boyle's 1997 Lotus Esprit V8.
This year was the 5th year the Vancouver ABFM celebrated excellence in volunteer work with the EDD AWARD, awarded in memory of Edd Langelier. The award went to Lotus Club BC president Ron Kubara in recognition of his leadership of the ever-growing Lotus Club and its members. Stewart remarked, "I remember when it was a struggle to have six Lotuses on display a the show—now look at the incredible number on the field today."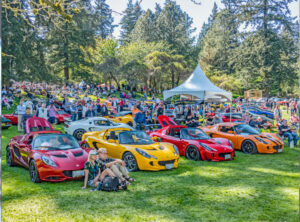 The LEWIE AWARD recognizes someone who has contributed significantly to the classic car and automotive industry. Since 2002, some 18 worthy enthusiasts have received the award. This year's recipient leads a double life between running a successful media relations company and buying, selling and restoring collector cars.
Alyn Edwards is the 2022 recipient of the Vancouver ABFM Lewie Award for a lifetime of writing, preserving and promoting the classic car hobby.
As a young man, Edwards wanted to be a car designer but couldn't draw, so he began writing as a newspaper reporter in Toronto, followed by a move to Global TV as a TV reporter and, after 20 years, joined the CBC network.
His media relations company, serving a full roster of clients, produces dozens of documentary videos. Still, the car world best knows him for his many years of writing about collector cars and their owners in his weekly Vancouver Sun newspaper columns.
Edwards has a life-long passion for old cars and is happiest in the restoration workshop caring for his extensive 30-car collection, performing shop tours for fellow enthusiasts or on the hunt for his subsequent acquisition.
The MICHAEL J POWLEY MOTORING MOUTH AWARD recognizes the spirit of a true British classic car enthusiast—hard to explain but instantly recognizable. This year's award went to John J. Allen.
Allen grew up around his father's automotive dealership in Northern Ireland (still part of Britain). As a youth, he had the enviable job of driving all makes of cars as a car jockey— during his school and university holidays. He has been judging the Vancouver ABFM Debuting Restoration cars for the past 10 years, was involved in the Harrison Hot Springs classic car show and is a four-time Mayor of that community.
BEST UNRESTORED—SURVIVOR CAR AWARD:
sponsored by Shell/Pennzoil, thanks to Shell regional manager Andrew Campbell, who provided a case of Pennzoil for all winners of the sponsors' awards.
The winning vehicle must be 1989 or prior and as close as possible to when it left the factory—allowance made for regular mechanical repairs. CAR #438 from Vancouver, BC: John Timms, 1981 Panther J72, Convertible.
Judges' comments: This is a well-cared-for, unrestored vehicle in excellent condition.
Debuting restoration cars are judged in three classes at the Vancouver ABFM: Debuting Restoration Under $50K; Debuting Restoration $50-$100K; Debuting Restoration More than $100K. This split gives the do-it-yourself cars a fair opportunity to compete with vehicles restored by professional restoration shops. John Allen is the senior judge acting for these three classes.
DEBUTING RESTORATION, LESS THAN $50K SPENT IN RESTORATION COSTS: sponsored by Octagon Motor Group, Cameron Lusztig presenting. CAR #172 from Coquitlam, BC: Steven Bennett, 1964 Morris Mini Minor.
Judges' comments: A tremendous father-daughter bonding project lasting eight years. The work was done at a home garage, resulting in an excellent DIY restoration.
DEBUTING RESTORATION, $50k TO $100k SPENT IN RESTORATION COSTS: sponsored by BMC Motorworks, David Gilmour presenting. CAR #63 from New Westminster, BC: Arlene Loft, 1966 MGB GT.
Judges' comments: A well-executed restoration on this MGB GT Coupe, topped off with an excellent paintwork finish.
DEBUTING RESTORATION, MORE THAN $100K SPENT IN RESTORATION COSTS: sponsored by Hagerty Insurance, regional manager Tyson Moore presenting. CAR #339 from Sidney, BC: Jason Stoch. 1967 Sunbeam Tiger
Judges' comments: Excellent restoration. The completion of a flawless, professional restoration by a multiple-time shop restoration winner.
The two-year hiatus of the Vancouver ABFM due to the global pandemic allowed car owners to complete many projects, resulting in more than a third of the cars new to the event this year.
FIRST-TIME ENTRANT AWARD: sponsored by Vancouver ABFM's official winery, Synchromesh Wines, owned by classic car enthusiasts Alan and John Dickinson. CAR #333 from Victoria, BC: Dick Auchinleck, 1965 Jaguar 3.8 S-Type
Judges' comments: This was a challenging judging category with so many excellent first-time entrants at the show. This Jaguar 3.8 S-Type, with its exquisite attention to detail, is an obvious labour of love.
NEATEST LITTLE CAR AWARD: sponsored by Western Driver automotive website, division of Westco Marketing Ltd., owners Patrick & Joan Stewart.
The 'Neatest Little Car' is not too difficult to recognize, and this year, no surprise, the award goes to CAR #20 from Delta, BC: Steve & Susan Blake, 1939 MG VA DHC Tickford.
Judges' comments: Anyone seeing this classic will immediately recognize why it is deemed the 'Neatest Little Car' at this year's Vancouver ABFM.
MOST ELEGANT CAR AWARD: sponsored by Autoglym, Britain's most recognized detailing product brand, thanks to Canadian national brand manager Dave Lambert for supplying Autoglym's latest Power Ball product to go with the awards this year. CAR #88 from North Vancouver, BC: Stephen Plunkett, 1953 Jaguar XK120.
Judges' comments: To paraphrase English painter William Hogarth: 'the line of beauty is essential to elegance.' This Jaguar XK120 is an outstanding example of graceful form married to the expression of power, speed and consistency in every dimension.
BEST MODIFIED CAR AWARD: sponsored by McLaren Vancouver. CAR #129 from Ferndale, Washington: Larry Schaffer, 1936 English Ford CX.
Judges' comments: Chevy custom chassis and custom everything on this English Ford.
BEST REPLICA AWARD: Car #116 from Delta, BC: Ed Leach, 1958 Lister Jaguar.
ENTRANTS CHOICE OVERALL: The most popular car on the field, as voted for by all car entrants. Sponsored by MCL Motorcars, part of the Dilawri Group that represents four British-built brands: Jaguar, Land Rover, Aston Martin and Bentley, has attended and supported this event from its inception. Thanks to marketing manager Surj Uppal for the dealership's significant support over the years.
CAR #236 from Vancouver, BC: Oliver Young, 1961 Aston Martin DB4.
BEST MOTORCYCLE OVERALL: sponsored by British Motorcycle Owners Club, presented by Wayne Dowler. Bike #432 from Squamish, BC:
Tom Arnott, 1954 Dawson Motors Wolverhampton (DMC) P200 Mk 1.
Judges' comments: This is a beautiful and extremely rare bike.
LONG DISTANCE AWARD: Recognizing the longest distance driven to the Vancouver ABFM in the entrant's classic car is a well-earned distinction and identifies specific characteristics in the owner—hardy, knowledgeable about the car's mechanics and a true enthusiast. While several long-distance drivers came from Alberta and Saskatchewan, the 2022 long-distance driver(s) made it to the show from California, driving 2,439 kilometres.
CAR #25 from Escondido, California: 1973 Triumph Stag (featured marque)—Mel & Kristie Hildebrandt.
LAND ROVER SPIRIT AWARD: sponsored by Rovalution. Don MacDonald, owner of Rovalution, which specializes in Land Rovers, sponsors and presents this
award for the Land Rover that is the most unique, vintage, original or special-purpose with characteristics that exceed all others in its class.
CAR #386 from Abbotsford, BC: David & Pamela Blair, 1995 Land Rover Defender 110.
Judges' comments: This is a well-travelled Land Rover—Vancouver to the Yukon and south to Panama City. Years spent in preparation for travel. That's the Land Rover 'Spirit' at its best!
FEATURED MARQUE AWARDS: THREE IN 2022.
TRIUMPH STAG (Featured Marque Award), sponsored by Hagerty Collector Car Insurance. CAR #111 from Tacoma, Washington: Mike & Leslie Blaisdell, 1973 Triumph Stag.
JAGUAR E-TYPE (Featured Marque Award), sponsored by MCL MOTORCARS, Dilawri Group, Jaguar Vancouver. CAR #167 from New Westminster, BC: Peter Foreman, 1970 Jaguar E-Type 2+2.
ENGLISH FORD (Featured Marque Award), sponsored by the BC Used Oil Management Association. CAR #138 from Granum, Alberta: John & Marilyn Dekok, 1950 Ford Thames E383W.
And that's a wrap for 2022. Thanks to all the sponsors, the VanDusen Garden personnel, and all the entrants who waited patiently for two years to attend, we thank you for your support.
Until we meet again on Saturday, May 20, 2023, have a great summer of safe and happy motoring.
For the 61 individual class awards, click here: 2022 Vancouver ABFM Class Awards.