By Alan Comfort
John Goodman and William Gue founded Veloce Limited in 1905. The first of its motorcycles produced under the name Veloce were powered by four-stroke Belgian Kelecom engines, then later with an F-head engine with an integral two-speed gearbox of their own design.
Veloce remained a family-owned business until its doors closed in 1971.
In 1913, the company began producing two-stroke motorcycles with the model designation of Velocette. Due to the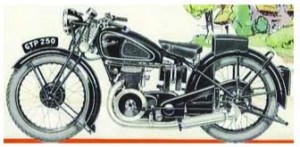 reputation and quality of that model, all subsequent models produced by Veloce were named Velocette.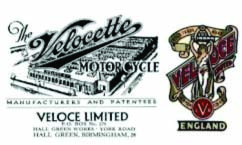 Despite the European-sounding name, Velocettes were designed and built in Birmingham, England.
K-series racing success
In the early 1920s, the company recognized the need to produce motorcycles of advanced design and began producing the K series. The speed and reliability of these overhead-cam models led to many successes at the Isle of Man TT,  Brooklands and countless other race venues. Race success, high quality and advanced design enabled the company to grow a loyal following.
Veloce pioneered the positive stop foot-operated gear change and the swinging arm rear suspension with hydraulic damping.
Technical evolution
In order to cut the high production costs associated with overhead-cam engines, Velocette introduced the overhead valve M series, beginning with the 350occ MOV and culminating with the 500cc MSS model that was popular with riders who needed a machine with enough power to pull sidecar.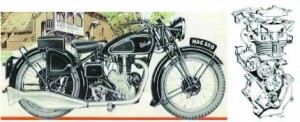 After World War 2, the M series evolved into the highly acclaimed Viper, Venom and Thruxton models.
Police duty
In the post-war years, Veloce also ventured into the lightweight motorcycle and scooter segment. The LE (little engine) model was initially designed for easy-to-use, everyday transportation and later provided many UK police departments with an efficient and durable service vehicle.

The advanced engineering of the Viceroy and Vogue scooters resulted in those models being over-priced for the growing and highly competitive scooter market.
World speed record
In 1961, a Velocette Venom Clubman set the 24-hour world speed record at an average speed of 100.05 mph, a record that has not been equalled or beaten by any motorcycle of this capacity to date. 

In 2014, a modified Velocette Venom reached a speed of 183.37 mph on the Lake Gairdner salt flats in South Australia. Built and ridden by Stuart Hooper, this bike holds the world speed record for a sit-on single cylinder motorcycle and is the world's fastest British single.
Distinctive, enduring design
Velocette motorcycles are easily recognized by their distinctive fishtail exhaust pipes and by their classic British lines.
Velocettes have become highly sought-after by motorcycle enthusiasts the world over.
Although Veloce produced only a fraction of the number of motorcycles that the Norton, BSA and Triumph factories produced, a large percentage of Velocettes are still on the road.
Supported by active Velocette Owners Clubs in the UK, Australia and North America, Velocette owners have easy access to spare parts and technical advice.
It is not uncommon for Velocette owners to make a cross-continent journey to attend a Velocette rally.  Superb road holding and excellent brakes, together with a smooth-running and reliable engine, make these bikes more than capable of navigating modern traffic and covering long distances.
2014 Vancouver ABFM
On May 17, 2014, the Vancouver All British Field Meet at VanDusen Garden, the British Motorcycle Owners Club will present a display of approximately 20 British-built bikes including several Velocettes to celebrate the marque's 110th anniversary.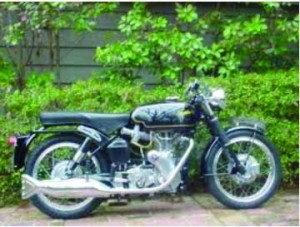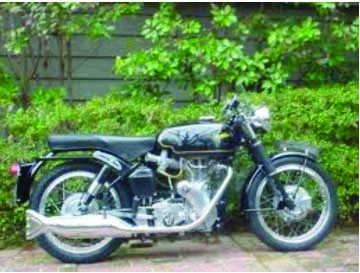 For more details on the 2014 Vancouver ABFM, visit www.westerndriver.com.
Alan Comfort is a member of the British Motorcycle Owners Club (BMOC) of B.C. and a keen motorcycle enthusiast.