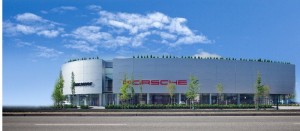 The Dilawri Group of Companies has opened  the doors to the new home of Porsche Centre Vancouver at 688 Terminal Avenue.
The impressive new facility is the first in Canada to feature Porsche's new global corporate identity with its striking exterior, expansive showroom and state-of-the-art service centre.
The move will allow the Dilawri Group to better service its customers and meet increasing demands for the popular luxury sports car brand.
"We are pleased to have worked with the Dilawri Group in bringing this exciting new Porsche facility to Vancouver," said John Cappella, director, network development, Porsche Cars Canada, Ltd. "Vancouver is one of the fastest growing markets for the brand in Canada, making it an ideal location to launch our latest showroom design concept."
The 40,000-square-feet dealership is double the size of its former location at 1718 West 3rd Avenue where it resided for the past 14 years.
The new facility features a large, modern showroom, a private fitting lounge where customers can experience Porsche product customization, and a customer cafe.
The service centre offers increased capacity with 20 technologically advanced service bays, specialized vehicle lifts, and a drive through service and valet area for the optimal service experience.
The facility is centrally located on Terminal Avenue near Main Street with ample customer parking, green rooftop areas and spectacular city views. Designed to be energy efficient, the building's exterior features a large curved aluminum facade with extensive use of glass and high performance metallic finishes. The interior styling offers a restrained colour scheme featuring a high quality selection of materials. The overall result is a spectacular new Vancouver landmark that will serve as the city's new hub for Porsche enthusiasts.
Porsche Centre Vancouver is Vancouver's only certified Porsche dealership and service centre. Founded in 1999 at 1718 West 3rd Avenue, the Dilawri Group assumed ownership of the dealership in 2010.
For more information about Porsche Centre Vancouver, visit vancouver.porschedealer.com.