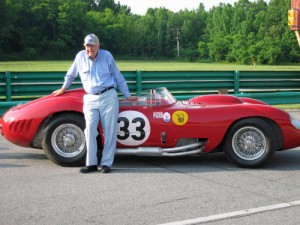 Carroll Shelby, the automotive icon whose innovation and influence spanned more than a half-century, died on Thursday May 11, 2012.
Shelby, who was 89, had been in failing health for some time.
Shelby standing next to a Maserati 450S that he raced in 1957. He won the first race at VIR in a sister car to this 450S.
Keith Martin, publisher of
Sports Car Market
and American Car Collector, commented, "Carroll Shelby will be forever remembered as the man who single-handedly took the fight to Ferrari and beat them at their own game on their own race tracks. His spirit, his ingenuity and his ever-present sense of humor will be missed."
Shelby's early career as a successful racer, driving for Cadillac, Maserati and Aston Martin, concluded in 1959, the year he won the 24 Hours of Le Mans. He then turned his vision and drive to building cars.
Shelby fitted a Ford V8 into the AC Ace body, and the potent Cobra was born. Its continual refinements and ever more powerful engines were typical of Shelby's relentless pursuit of perfection. Over the years, Shelby worked closely with Dodge and Ford in the development of many performance cars, including the Dodge Viper and the long-running Ford Mustang Shelby line.
Shelby will be remembered not just as a racer and technological performance guru, but as a charismatic entrepreneur who was never afraid to risk it all. His by-any-means-necessary approach to innovation continually advanced the industry until his death.
Shelby is survived by his three children: Patrick, Michael and Sharon; his sister Anne Shelby Ellison; and his wife Cleo. For more about Shelby's life,
click here
. Donations to the
Carroll Shelby Foundation
are encouraged in lieu of flowers.