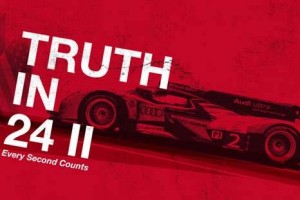 Truth in 24 II: Every Second Counts is a documentary chronicling the Audi team's attempt to seek its 10th victory at the famed 24 Hours of Le Mans race in France in 2011. When tragedy struck twice, one lone Audi R18 TDI race car remained to fight three Peugeots. Risks were taken, boundaries were pushed and nerves were rattled.
Narrated by Jason Statham, the film highlights Audi's win and documents what unfolded over the next 24 Hours at Le Mans as it became one of the most competitive and gripping races the world had ever seen.
Click http://www.youtube.com/watch?v=mpMF8fVbc2Y for a preview of the documentary, which is also available in high-definition as a free download on iTunes.