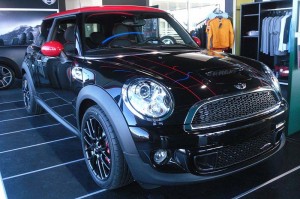 For the past decade, MINI has brought Canadians a touch of nostalgic British flare with a cheeky, never-shy line-up of MINI models.
On March 22, 2002, Canada welcomed the redesigned, next-generation MINI Hatch to its roads. Since its arrival, the MINI line-up has grown to include six unique models, ranging from the well-known and beloved MINI Hatch to the four-door, four-wheel drive MINI Countryman and the all-new, two-seat convertible MINI Roadster.
No matter the model, MINI has always been consistent in offering one memorable and remarkable trait: go-kart-like handling.
MINI has enjoyed tremendous success in Canada.  Since its launch in 2002, MINI sales have skyrocketed, surpassing the 5,000-annual-unit milestone for the first time in 2011.  This year, the brand expects to sell its 40,000th unit in Canada.
MINI's retail network has also expanded since its arrival in Canada, from 15 MINI retailers in 2002 to 29 MINI retailers in 2012.
MINI also celebrates a decade of fun and fearless marketing campaigns pulled off by a gusty and mischievous brand. Some notable marketing campaigns include the "Parks Better than a Ferrari" ad from 2002 that targeted premium brands, and the 2003 campaign that placed MINI vehicles in cages and asked people not to "feed, tease or annoy the MINI." There was also the "Let There be Xenon" tactic, a stunt advertising campaign from 2007 that aimed to generate awareness of the vehicle's new headlights by placing a MINI on the side of a building and pointing the headlights skyward.  That campaign was so successful it actually had to be taken down because it was distracting pilots.
Another idea that helped set the tone for the brand when it launched in 2002 was to offer the vehicle with a manual transmission.  To ensure the vehicle was positioned in a performance-oriented manner, MINI Canada did not offer an automatic transmission, even as an option.  Today, the brand continues to be known for its dynamic road manners, its powerful powertrains, and its go-kart-like handling.
To celebrate its 10-year anniversary in Canada, MINI Party Pit Stops hit the streets of Vancouver, Toronto, Montreal and Vancouver on March 22.  The Pit Stops saw a MINI street team ambushing unsuspecting MINI drivers stopped at red lights with a quick, impromptu celebration that included streamers, balloons, banners and music, after which drivers received an anniversary card and a small gift to thank them for joining the party.  And all before the lights turned green.