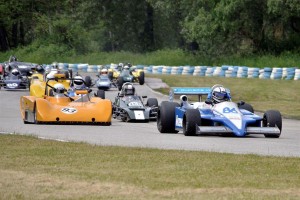 The Vintage Racing Club of British Columbia's 25th running of its annual marquee race weekend, British Columbia Historic Motor Races, will be held on August 4 and 5, 2012, at the Mission Raceway Park – Road Course.
Since 1976, when the races were staged at the famous Westwood track in Coquitlam and now at the multi-purpose racing complex at Mission, the VRCBC's British Columbia Historic Motor Races has grown to become the largest vintage race event in Western Canada and one of the largest in the Pacific Northwest, with more than 100 vintage and historic racing cars and more than 3,000 spectators in attendance.
"The BCHMR weekend is a unique experience," said event chairman Tom Johnston. "Nowhere else in British Columbia can road racing fans can get as up close and personal with these wonderful machines and their drivers, and be able to see some of the world's finest race-bred marques racing for the chequered flag. The paddock is open all weekend for public access and the on-track racing is fast and competitive, stirring nostalgic memories from a bygone era of motor racing."
The event has become an annual gathering for vintage racing drivers and their crews, as well as local classic car enthusiasts who display their fascinating cars in a special area, creating a show of their own. Adding to the festival atmosphere are the many sponsors' booths offering everything from automobilia and artwork, to automotive product displays. The food concessions, informative track-side commentary and excellent grandstand viewing, all make this an entertaining weekend for families as well as long-time enthusiasts.
The VRCBC is currently working on a line-up of interesting racing cars, racing celebrities and activities, which will be announced when finalized on the Club's website: www.vrcbc.ca or the event website www.bchmr.ca and through the press.
The VRCBC is a non-profit member organization which organizes a series of racing events annually, including the BCHMR weekend. The purpose of the VRCBC is to restore, race and exchange information concerning vintage sports and racing automobiles. The Club members' philosophy is to encourage participation, sportsmanship and display of these vehicles in their natural state – on the race track.
To have a look at what is being offered, go to:
http://www.youtube.com/watch?v=5DaYNVb1n8U&feature=player_embedded
For more information and sponsorship opportunities, please contact Tom Johnston at tomjohnston@shaw.ca or 604 922 2722.