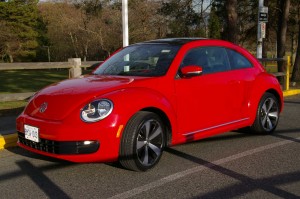 When the first Beetle rolled off the production line in 1938, it was called simply the Volkswagen — "the people's car" — but its distinctive shape inspired nicknames across the globe: Beetle, Käfer, Vocho, Coccinelle, Fusca, Maggiolino.
In total, 21.5-million original Beetles were sold.
More than 60 years later, in 1998, a New Beetle, complete with dashboard flower power, rekindled the spirit and imagination of the original to a new generation of Volkswagen owners.
Last spring, a third-generation redesigned Beetle opened a new chapter in the car's remarkable story when it celebrated its transcontinental world debut simultaneously in Shanghai, Berlin and New York.
Updating an icon

The task for third-generation Volkswagen engineers was to develop a modern interpretation of the Beetle, with all the benefits of today's technologies and efficiencies and the driving characteristics that define the Volkswagen brand.
The design of the new Beetle presented another challenge. How does one reinvent a look that is so recognizable and unique?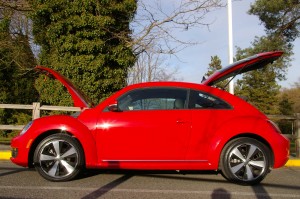 Volkswagen group design chief Walter de Silva and Volkswagen brand design chief, Klaus Bischoff, set an ambitious objective: "Design a new original!"
The designers wanted to develop the new car around the 1930s Beetle profile, rather than the 1998 New Beetle—a car that respected the past while looking towards the future.
Exterior
Placing the original Beetle and the 21st Century Beetle next to one another, it's clear that the lines of the rear sections are nearly identical, but the overall look is more dynamic.
"The Beetle is now characterized by a clean, self-confident and dominant sportiness," said Klaus Bischoff. "The car not only has a lower profile, it is also substantially wider, the front hood is longer, the front windshield is shifted further back and has a much steeper incline. All of this creates a new dynamism."
The Beetle is sportier, offering both turbo-charged TDI Clean Diesel and turbo-charged gasoline engines, in addition to dual exhaust, performance-handling packages, 19-inch wheels, sport seats and new, sleeker styling. Volkswagen offers a panoramic roof, a range of audio options, including the Fender Premium Audio System and a customization program for the 2012 Beetle with a large number of personalization options, including a wide variety of colors and wraps along with an annual theme model.
Interior

The 21st Century Beetle offers a driver-oriented coupe experience with quality fit and finish. Three round instrument gauges are arranged in front of the driver (tachometer, speedometer, fuel gauge) providing all key information at a glance. A multifunction display is integrated in the speedometer in middle position. The steering wheel is specially designed with optional painted accents in the spokes depending on the equipment line.
Framed by two air vents, the selected audio/navigation system is located in the driver's visual field on the dashboard. Within easy reach, climate controls are situated just below. Similar to the original Beetle, the new car has an extra glove box integrated into the dash.
The dome roof of the New Beetle has been replaced with a sporty roofline that increases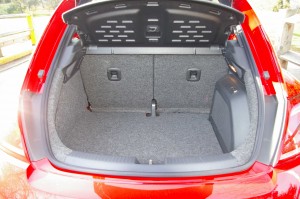 front and rear passenger headroom. The longer roof section results in more space and increased trunk capacity and the wide-opening hatch-back makes loading and unloading easy.
Engine and Transmission

The 2012 Beetle comes with three engines: 2.5-litre gasoline five-cylinder 170-horsepower; 2-litre TDI Clean Diesel; and 2-litre TSI 200-horsepower turbocharged gasoline engine.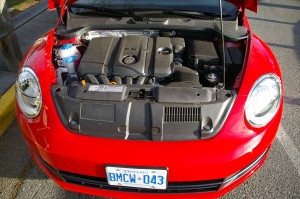 Transmission choices include a five-speed manual or optional six-speed automatic on 2.5-litre models. Volkswagen's DSG six-speed dual-clutch transmission is offered (when available) on the TDI Clean Diesel and 2-litre TSI turbocharged gasoline models, while a six-speed manual  comes standard.
Fuel economy values are also improved up to 10 per cent over prior 2.5-litre five-cylinder engine models. Mated to a five-speed manual transmission manufacturer estimates of 9.9litres/100 kilometres city and 6.4litres/100 kilometres highway are claimed. The optional 6-speed automatic offers manufacturer estimates of 9.5litres/100km city, 7.1 litres/100km highway.
Premium Features
The Beetle can also be customized with a wide choice of optional features including radio-CD and radio-navigation systems, panoramic roof, Fender Premium Audio System and keyless entry access.
With its combination of performance, price, VW-build reputation and initial industry and public reaction to the vehicle, the third generation Beetle will be a hot seller—even without the flower power.
For availability and pricing see your VW dealer or visit cowellvw.com.