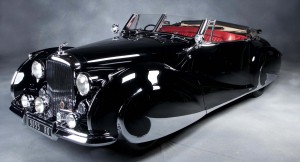 Building on its mantra of "Something for Everyone," Barrett-Jackson Auction Company will unveil a new, elite breed of horsepower — Barrett-Jackson Salon Offering Collection— cars that are among the world's most rare, valuable, collectible and coveted.
1947 Bentley Franay Mark VI Cabriolet, one of only two commissioned in 1947.
Nine one-of-a-kind vehicles are currently consigned in the salon-offering category and will cross the block January 15-22, 2012 at WestWorld of Scottsdale.
These rare vehicles include a 1947 Bentley Franay Mark VI Cabriolet (Lot #5005) (Chassis Number B 20 BH  VIN B25071), universally recognized as the most successful and expensive post war Bentley/Rolls-Royce automobile of all time with the Concours and auction record to prove it. In August of 1991 at the Rolls-Royce national meet, the Bentley Franay was judged by its peers as "Best of Show" among all competing Rolls-Royce and Bentley automobiles from around the world. In 1999 it won the most coveted award that the RROC (Rolls-Royce Owners Club) could bestow, the Royce Memorial Trophy and top senior award "Best of Prior Best of Show."
Joining the Bentley Franay will be a 1948 Tucker Torpedo (Lot #5008) (Chassis Number 1043 Engine Number 33550), an advanced automobile conceived by Preston Tucker and briefly produced in Chicago in 1948 with only 51 examples ever made. Also on the docket is a 1957 DeSoto Adventurer Convertible (Lot #5008.1) (VIN 50417567), powered by the famous 345hp, 345cid HEMI V8 with dual quads and an automatic transmission.
Rounding out the eight Barrett-Jackson Salon Offering vehicles:
•    Lot #5000 1954 Mercedes-Benz 300SL "Gullwing" Coupe (Chassis Number 198040-4500129 Engine Number 198080-4500144). With only 4,149 Original Miles, this exceptional example is one of only 146 that were built in 1954 and is one of the lowest mileage Gullwings in existence.
•    Lot #5002 1933 Pierce Arrow Silver Arrow (ID# 2575018) – The Silver Arrow caused a sensation when it was unveiled at the New York Auto show in January 1933. Only five were ever built.
•    Lot #5002.1 1954 DeSoto Adventurer II Coupe (VIN 1493762) –A one-off concept built by Ghia on a Chrysler Imperial chassis, 125.5″ long. Original HEMI power. Sold new to King Mohammed V of Morocco. Classified as one of the top ten concept cars ever constructed.
•    Lot #5004 1930 Duesenberg Model J Murphy Town Car (Chassis Number 2401 Engine Number J-381) – One of only four built. In the 1980s, Florida car collector Bill Lassiter had a complete restoration performed on the car.
•    Lot #5006 1930 Isotta Fraschini Tipo 8A Roadster Cabriolet by Castagna (Chassis Number 1540) – With 13,350 original miles, this beautiful Isotta Fraschini is a Tipo 8A with wonderful coachwork by Castagna of Milan, Italy.
•    Lot #5007.2 1928 Daimler P150 Vee Front Royal Limousine (Chassis Number 30652 Engine Number 51786) is the largest British car ever built. 7.163 Liter V-12 steel-sleeve valve engine producing 150hp at 248rpm, a 163″ wheelbase, 21′ overall length and weighs 8,100 lbs. This vehicle's ownership history includes the Harrah's Automobile Collection.
"We are consigning six full days of a diverse offering of vehicles for every level of enthusiast," said Steve Davis, president, Barrett-Jackson. "I'm looking forward to producing a docket that will contribute to the overall excitement that can only be experienced at a Barrett-Jackson event."
Barrett-Jackson's Scottsdale collector car auction has become one of the world's preeminent events, with attendance now exceeding 250,000 automotive enthusiasts each year. The 2012 automotive lifestyle event promises to deliver the very best in exotics, customs, classics, Resto-Mods, Hot Rods and original collector vehicles. The 41st annual collector car auction will also have events and activities for the whole family including fashion shows, live demonstrations, ride 'n drive events with Ford, GM, celebrity sightings, live music and much more. A complete schedule of events will be announced in the coming weeks.
SPEED will broadcast nearly 40 hours of live, high-definition TV coverage of the Barrett-Jackson auction Tuesday through Thursday, January 17 – 19, 2012, from 7 pm to Midnight, Friday, January 20 and Saturday, January 21 from 2 pm to Midnight and Sunday, January 22 from 2 pm to 6 pm. All times are Eastern Standard Time.
For more information about Barrett-Jackson and to purchase tickets to the event, visit www.barrett-jackson.com or call (480) 663-6255.31 854-8128.