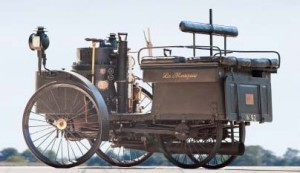 The world's oldest running motor car, a historic 1884 De Dion Bouton et Trepardoux Dos-a-Dos Steam Runabout, has entered the history books, selling for an impressive US$4.62-million before a packed house at RM Auctions' Hershey, Pennsylvania sale on October 7, 2011.
The impressive sale price more than doubled its original pre-sale estimate and represents a new world record for an early motor car sold at auction.
Commissioned by French entrepreneur, Count de Dion and named 'La Marquise' after his mother, the 127-year-old vehicle drew a standing ovation from the audience as it drove onto RM's Hershey auction stage. Attracting a starting bid of $500,000 and immediately jumping to $1-million, bidding moved swiftly to applause from the crowd, with the gavel eventually falling at the extraordinary $4.2-million price.
The final sales price of $4.62-million includes 10 per cent buyers' premium.
The new owner joins an elite list of just five collectors to have claimed ownership of La Marquise over its well-documented history. In addition to being the world's oldest running motor car, La Marquise's impressive provenance includes participation in the first automobile race in 1887, where it reached a top speed of 37 mph on the straights, along with a double award at the famed 1997 Pebble Beach Concours d'Elegance.
In addition, La Marquise has also successfully completed four London to Brighton runs in the UK.