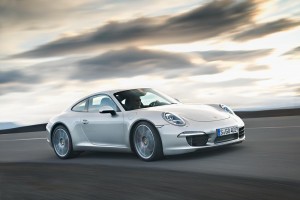 The new Porsche 911 Carrera, which will celebrate its world premiere at the 2011 Frankfurt Motor Show, steps into the limelight with a lower, stretched silhouette and exciting contours – but remains in every inch true to the 911 tradition.
As it has for generations, the new 911 raises the performance and efficiency bar yet again. Fuel consumption and emissions are up to 16 per cent lower compared with its predecessor.
The 911's all-new, lightweight body is an intelligent aluminum-steel construction and is responsible for a significant proportion of the weight reduction of up to 45 kg. New active control systems elevate driving dynamics to an unprecedented level. The world's first seven-speed manual transmission is featured as standard, while additional systems and functions such as auto start/stop, thermal management and electrical system recuperation further enhance the new Carrera's efficiency.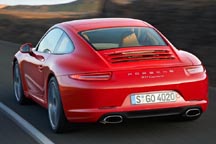 As the next-generation 911 makes its debut, Porsche enters the home straight for one of its most popular, coveted and successful racing-pedigreed production cars. Limited to 600 units, the 911 GT3 RS 4.0 brings together in a road car all the attributes that have made the 911 GT3 a winner on the racetrack. The largest engine ever used in a production 911 produces 500 hp and propels the 911 GT3 RS 4.0 around the Nürburgring-Nordschleife circuit in 7:27 minutes.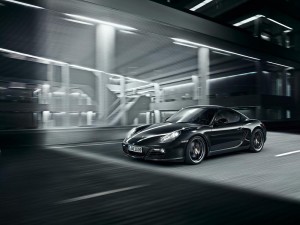 The Cayman S Black Edition, limited to 500 units, is also debuting in Frankfurt. The all-black, mid-engine two-seater boasts even better performance than the Cayman S and offers a high level of additional standard equipment. It is powered by a 3.4-litre flat-six engine with power output increased by 10 hp to 330 hp.
Porsche's world premieres are accompanied by two vehicles which provide impressive proof of the tradition and future of the Porsche Intelligent Performance development philosophy. The Boxster E will sit alongside the legendary Semper Vivus, the world's first fully-functional, full-hybrid car. The Boxster E, with one electric motor apiece on the front and rear axles, runs on purely electric power with four-wheel drive and is equivalent to a Boxster S in terms of driving dynamics. This prototype is being used to explore the everyday practicality of all-electric vehicles and how they are used, especially in terms of driving and battery charging.
The faithful reconstruction of the Semper Vivus pays tribute to the visionary invention of Ferdinand Porsche. By building it in 1900, he created the first ever functional vehicle with a series hybrid drive. The faithful replica, the visionary design of which impresses to this very day, was the outcome of a collaboration between Porsche Engineering and Karosseriebau Drescher, a coachbuilding company based in Hinterzarten, Germany.