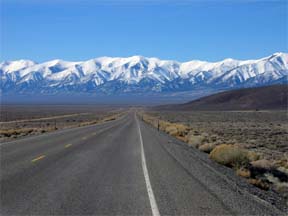 There's something about hitting the road that makes travel come alive, especially when the drive is through some of the world's most scenic roadways and locales. Road tripping empowers you as a traveller with the flexibility to route—and re-route—your itinerary at any time. Whether travelling with the family, with a group of friends or with your partner, there's no better way to discover new cultures, see great sites or navigate an unknown terrain than by car.
To help travellers plan the ultimate road trip, online travel site Cheapflights.ca, offers a choice of some of the best worldwide destinations for exploring by car. Following are some to consider:
Pacific Coast Highway, California, U.S. – There's no better vantage point for spectacular views of the Pacific than from California's Pacific Coast Highway. Drive or fly to sunny Los Angeles and, after dipping your toes in the waves at Malibu's highfalutin beaches, point your car due north—well, nearly—to San Francisco. Stop in coastal towns like Santa Barbara and Monterey, or wherever you feel like pulling off. The absolute must-see is Big Sur. Situated roughly 240 km south of San Fran, the cluster of seaside national parks offers wonderful options—camping, hiking and surfing—for even the hardest-to-please adventure travellers.
Provence, France – Wine lovers, art lovers, food lovers love Provence. Fly to Paris and take a train to Avignon. From there, visit the Papal Palace and grab a chèvre chaud salad al fresco, before renting a car and touring the back roads of a region that astonishingly resembles works by Monet. Drive between Montpellier, Salon-de-Provence and Arles, and stop for exquisite wines (the region produces the best rosé in the world) and light fare. Stock up on satchels full of lavender and shop for antiques among endless fields of sunflowers, lavender and grapes.
Bohemia and Moravia, Czech Republic – Prague alone offers enough reasons to add the Czech Republic to your lifelong list of countries to see, but it's the city's surrounding regions – Bohemia to the west and Moravia to the east—that make a rental car worth the investment. Start in the thriving city of "Praha," as it's called by Czechs; stroll down cobblestone streets, admire the gothic Týn Church in Old Town Square, and see an opera at Estates Theatre, where Mozart's Don Giovanni was first performed. After a taste of Czech city living, drive to lesser-known towns like Cesky Krumlov, Milukov, and Olomuoc, which boast medieval charm and beer halls galore.
Seward Highway, Alaska, U.S. – If snow-capped mountains and magnificent fjords seem of interest to you, then fly to Anchorage for the drive of a lifetime. Alaska's Seward Highway links Anchorage to Seward via 204 km of glorious terrain across the Kenai Peninsula, nestled between the Cook Inlet and Prince William Sound. Leave your lens cap in the backseat as you snap shots of ice caps and glaciers while winding your way through Kenai Fjords National Park. Chances are you'll grab more than a few frame-worthy photos of the area's wildlife—whales and migratory birds abound.
Wherever you choose to take your driving holiday, abroad or closer to home, stay safe and here's to happy motoring.