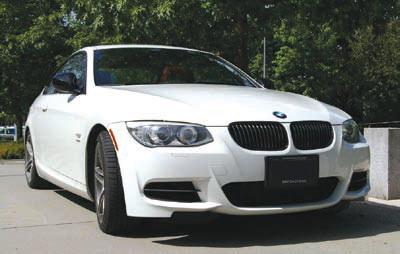 Get the revs up, roll down the windows and enjoy the sensational, specially tuned exhaust note that emanates from the 320-horsepower, twin turbo, in-line six cylinder engine powering BMW's latest sports sedan.
Yes, it's addictive, and if you are an enthusiast you will want to do it all day long. This future classic is simply a blast to drive, especially on the new Sea to Sky highway where the changing elevation, well-banked corners and twisty blacktop allow the 335is to demonstrate why it will give any Audi A5, Cadillac CTS, Infiniti G37 or Mercedes-Benz E-class a run for their money.
The 335is model is based on the latest BMW 3 Series coupe and convertible models, and is positioned between the 335i and the M3, with no threat to the latter's well-earned supremacy.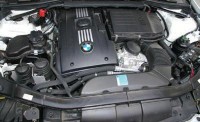 But it is what's under the hood of the 335is that is impressive. A highly acclaimed N54 twin-turbocharged inline six engine that displaces 3.0-litres, features all-aluminum light weight construction and, with the addition of a heavy duty cooling system and special software, allows the N54 to sustain a nominal output of 320-horsepower and 332 lb-ft of torque. Through the use of temporary over boost, up to 370 lb-ft of torque can be achieved, which comes in handy during overtaking and high-speed manoeuvering situations.
The vehicle's seven-speed double clutch transmission (DCT) with shift paddles provides seamless, lightning fast and effortless gear changes.
All this increased power and torque puts higher loads on the engine so in addition to the upgraded cooling system, with additional radiator, fan and oil cooler, the front fenders have larger air intake dams to increase air flow to the coolers and help provide constant, reliable power at the hands of the most spirited driver.
At the rear, an M Sport diffuser has been designed to manage the high-velocity air flow rushing from underneath the vehicle and prevent any lift from occurring under the rear axle and thereby keeping the car firmly planted on the asphalt.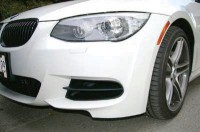 The M Sport treatment comes in the form of M-aerodynamic elements that include high-gloss black grille surround, shadow line black window trim, wing mirror caps in black, and 45-centimetre, light alloy wheels in ferric grey colour — 48-centimetre M wheels are optional. Additionally, exclusive 335is chrome badges on the side and rear fenders and M badging on the steering wheel and door-scuff plates demonstrate the vehicle's provenance.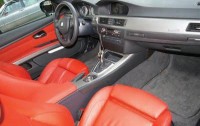 Interior layout and trim is true to BMW perfection. The high level of craftsmanship is designed to hold the driver and passengers so that the G-forces can be enjoyed in comfort, and that includes the back bucket-style seats that are easy to access and provide sufficient headroom for taller passengers.
This Bimmer is only available in North America and comes with a price tag in the $50,000-plus range—no charge for exhilarating driving.