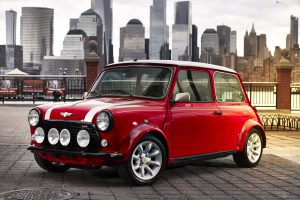 With a world premiere at the New York International Auto Show (March 30 to April 8, 2018), British car manufacturer MINI has demonstrated its appetite for purely electric driving with a new take on an icon.
The classic Mini Electric combines the historic look of one of the world's favourite small cars with groundbreaking drive technology for tomorrow's urban mobility.
The urban electro mobility landscape will soon see the arrival of the classic Mini Electric, a brand new model packed with charisma, individual style and driving fun.
The MINI Electric Concept was announced at the 2017 Frankfurt Motor Show and paves the way for the brand's first all-electric vehicle, which will be unveiled in 2019 – just in time for the 60th anniversary of the classic Mini. The fully electric production vehicle is currently in development, based on the MINI 3 Door, and will be produced for the first time at MINI Plant Oxford next year.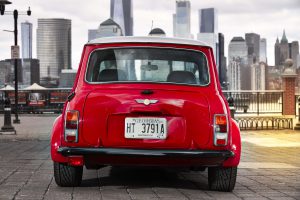 MINI is once again assuming a pioneering role for sustainable mobility within the BMW Group. In 2008, the brand presented the MINI E – based on the predecessor model of the current MINI 3 Door, about 600 examples were produced and used in a field trial under everyday conditions. This trail played a central role in paving the way for the development of the BMW i3, which has enjoyed worldwide success since 2013 (combined power consumption: 13.6 – 13.1 kWh / 100 km, combined CO2 emissions: 0 g / km).
On the way to a new era in electro mobility, MINI has already taken another step forward.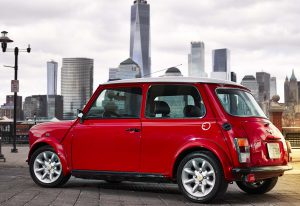 In the MINI Cooper SE Countryman ALL4 Plug-In Hybrid model (fuel consumption combined: 2.3 – 2.1 l / 100 km, combined power consumption: 14.0 – 13.2 kWh / 100 km combined with CO2 emissions from fuel: 52 – 49 g / km), the combination of an internal combustion engine with an electric drive provides a system output of 165 kW / 224 hp and an intelligent hybrid-specific all-wheel drive system. The capable five-door model in the premium compact segment guarantees driving pleasure on any terrain. The vehicles draws its power from both engines for powerful acceleration, whilst retaining the ability to drive at up to 125 km / h in purely electric mode. With these qualities, the MINI Cooper S E Countryman ALL4 makes a significant contribution to the global market success of the BMW Group's electrified vehicle fleet.
By contrast, the classic Mini Electric presented this month in New York will remain unique. A late and carefully restored example of the classic Mini Cooper serves as the basis for this special vehicle. The exterior red paint is complemented by a contrast white roof and characteristic bonnet strip, with the yellow MINI Electric logo in the brand emblem and on the wheel hubs. The electric classic remains true to the brand, both in terms of its visual appearance and driving characteristics.