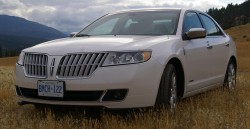 By Patrick Stewart
Driving to last month's Pacific Forest Rally, held in the back roads of Merritt's rolling hillsides, presented the perfect opportunity to put Lincoln's fuel efficiency claim to the test.
The rally is round five of the six-stage National Canadian Rally Championship held across Canada and attracts more than 30 rally teams mainly from Western Canada, who compete in dust, gravel and mud over 10 stages for top honours in their respective classes.
The close to 600-kilometre-long Vancouver-Merritt return road trip provided a great opportunity to put Lincoln's claim to the test that the MKZ Hybrid is "the most fuel-efficient luxury sedan in America"—4.6L /100 kilometres city driving and 5.4L/100 kilometres on the highway.
The emphasis in Lincoln's claim is on luxury as that is the main difference between the MKZ Hybrid and other competitors, including the less-expensive Ford Fusion Hybrid.
Compared with the conventional Lincoln MKZ, the Hybrid version has a different power train that's based on a 2.5-litre, four-cylinder gas engine that is designed for fuel economy rather than the additional power of the V-6.
According to Derek Kuzak, Ford Motor Company's product development group vice president, Lincoln's aim is to give shoppers a choice—an eco-friendly luxury MKZ Hybrid, or a conventional model that provides power and luxury. The good news is that pricing is the same for both models.
Following in the Ford Fusion Hybrid's footsteps, Lincoln achieves its outstanding numbers through the use of the company's second-generation hybrid technology—a 2.5-litre Atkinson-cycle 1.4 hybrid engine, which combines the best attributes of the gasoline engine and the electric battery-driven motor to deliver optimal performance and economy.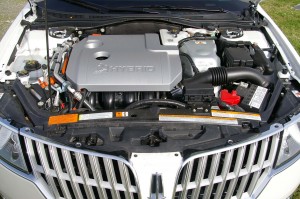 The nickel-metal hydride battery pack enables the Lincoln MKZ Hybrid to drive for short periods of up to 75 kilometres per hour. The gas engine shuts down when there is enough juice in the batteries for low-speed, all-electric drive. Those same batteries allow the 40-horsepower electric motor to send added power to the 156-horsepower gas engine when extra power is needed for passing on the hilly Coquihalla Highway and in other driving conditions.
Behind the wheel, the front-wheel-drive sedan accelerates smoothly and handles well—more to the gentle side than sporty, but not soft like the stereotype Lincoln of old. There is a definite feel of the road and even tight steering and braking gives no hint of the blend of regenerative and conventional systems. This big sedan is very stable up to 140 kilometres, adequate for most driving conditions.
Inside, the cabin is quiet with very little engine or wind noise. The transmission shifts effortlessly and is a credit to Lincoln's engineers that the transfer of power from gas to elective vehicle mode goes unnoticed.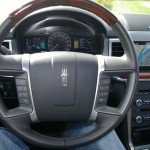 Plush, eco-friendly leather-clad heated and cooled front seats with 10-way control, voice-activated Sync system providing Bluetooth phone and MP3 connectivity plus a THX11 certified 14 speaker audio system and a useful reverse sensing system, all add to the calm, relaxing driving experience. The cluster of gauges surrounding the speedometer coach drivers to achieve optimum fuel economy and lower emissions by displaying growing leaves sprouting from branches to display driving efficiencies, and a glance at the SmartGauge with EconoGuide dash display allows drivers to reap the rewards of efficient driving and get a genuine feeling of contributing to the environment, while saving money on gas. Like a video game, glancing at the display becomes somewhat addictive as drivers are urged to let up on the accelerator in an effort to 'grow' more greenery.
Lincoln claims that within one year, efficient drivers can expect to save nearly 757 litres of gas and reduce their carbon footprint by almost two tons of CO2 emissions. My Merritt trip used only 33 litres for the 600 kms driven, confirming Lincoln's EPA rating of 5.4 L/100 kilometres and adding to the satisfaction of a great weekend, where local rally champion Pat Richard's Squamish-based Rocket Rally using considerable more fuel brought home first-place overall championship honours for the home team.
Specifications
2011 Lincoln MKZ Hybrid
5 – passenger
Engine: 2.5L 14 HEV, 4-cyclinder
Power Rating: Combined gasoline engine and electric motor provide 191 net horsepower
Standard Price: $42,200.