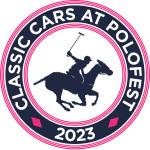 An outstanding, multi-car display of Euro Classics, Performance and Supercars participated in the inaugural Classic Cars at PoloFest, (CCAP) event held at Southlands Riding Club on Saturday, July 29, 2023.
Horses and Horsepower
This event allowed car enthusiasts to participate in a unique show that combined a multi-marque, 100-car display with the exciting equestrian world of international Polo for the first time in Vancouver.
In a time when venues that allow car shows are increasingly challenging to find throughout the Lower Mainland, Western Driver is pleased to have established the new Classic Cars at Polofest (CCAP) event in partnership with the management of Southlands Riding Club and the Delta Polo Club, which allowed access to their extensive facilities, including the entertaining on-field polo matches.
Successful Formula
On Saturday, July 29, good attendance, sunny weather, stunning vehicles, an eclectic gathering of stylish spectators,
good food and beverages, and entertaining, on-field Polo matches all made for a delightful day. 
Beautiful Cars & Owner Involvement
With six countries represented on the field, it was great to see the cross-section of owners take an interest in the varying designs, engineering and quirks of the different examples displayed under the flags of their appropriate countries. Italy was represented by five marques, Germany with three, France with four, Sweden with seven, England with ten, America with nine, and the Czech Republic represented by one, with a total of 106 cars on the field. 
Automotive Milestones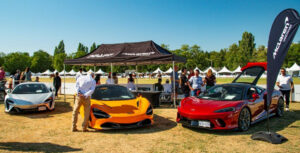 McLaren celebrated its 60th anniversary, Porsche and Ferrari's their 75th, and Aston Martin's 110th, an essential reminder of the cultural and historical importance of the collector car hobby and one of the vital reasons for staging car shows in BC and Canada. 
The enthusiasm expressed by owners at the exclusive Cars & Coffee morning session was a good precursor for a successful show, as they made new car friends and reacquainted with old ones. 
Congratulations to Fred Russell and the stunning 1967 Lamborghini Miura P400 he brought to the show, which was voted People's Choice. (Hagerty Valuation Guide: US$2,200,000 to $4,200,000).
Next year's show will include class awards for cars by country to encourage greater participation and increase the variety of vehicles on display.
A new and uniquely different car show festival is now part of the Lower Mainland's car show scene, so spread the word as we plan a bigger and better event for 2024.
Patrick & Joan Stewart
2023 Classic Cars at PoloFest organizers
www.westerndriver.com
Photo credits: Cam Hutchins (carnut.ca)