To have your event published here, email your event information to jstewart@westerndriver.com
Sunday May 7, 2017, 12th Annual Restoration Fair & Swap Meet, Vancouver Island
The South Island Branch of the Old English Car Club invites you to join them for their 12th annual British vehicle RESTORATION FAIR AND SWAP MEET on Sunday, May 7, 2017 at Heritage Acres in Central Saanich (Saanich Historical Artifacts Society).
The event will follow the same format as last year.
Their web site is updated to allow you to register and pay online if your wish. Just go to:
http://www.oecc.ca/sib/events/restoration-fair-registration.
You also may download and complete the paper form and mail it to the Registrar Kim Parker:
Kim Parker, Registrar
Restoration Fair and Swap Meet
2362 Malaview Avenue, Sidney, B.C. V8L2G2
250-656-3128 kp3128@telus.net
The costs are the same as last year with the exception of adjusting the cost of renting a table to reflect costs – this year the rate per table is $13.00. Please feel free to bring your own table(s) if you wish.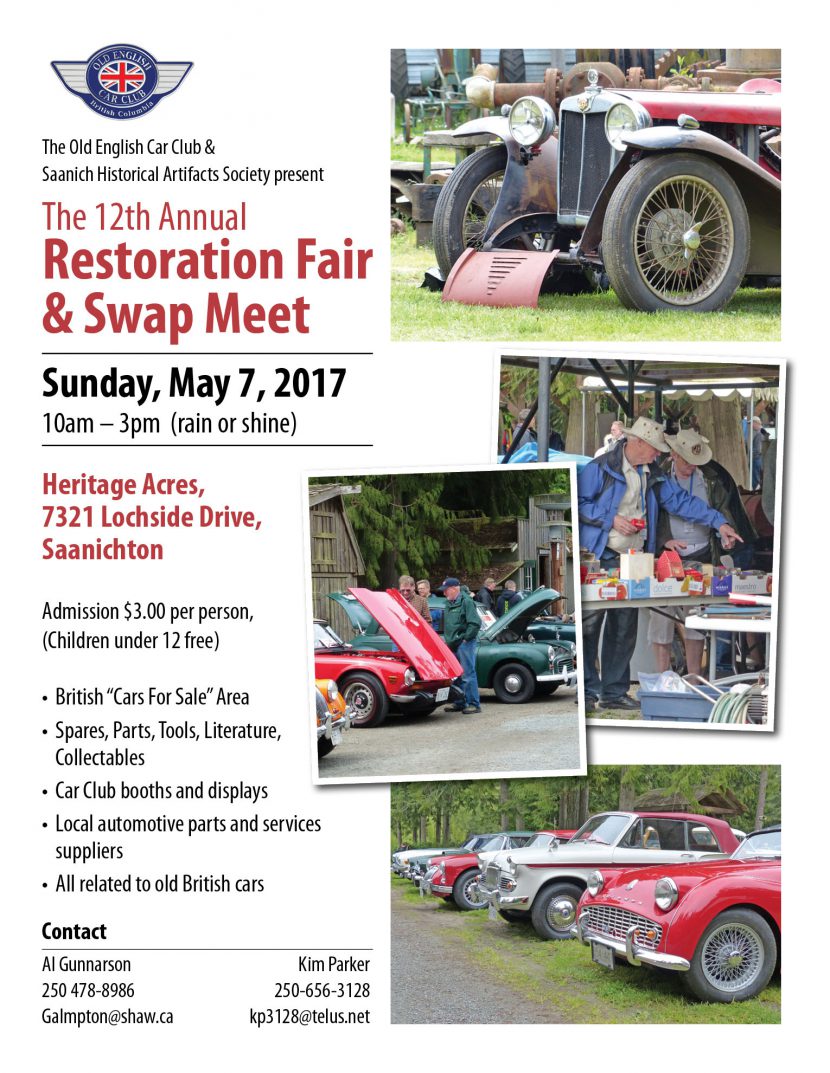 ___________________________________________________________________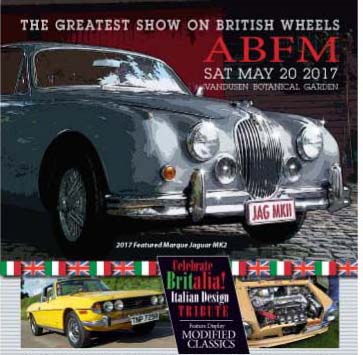 Saturday May 20, 2017, Vancouver ABFM

VanDusen Botanical Garden, 37th & Oak Street, Vancouver, BC
Dubbed The Greatest Show on British Wheels, the Vancouver All British Field Meet (ABFM) will celebrate its 32nd year on Saturday May 20, 2017.
Featured marques for 2017 are (i) the world's first sports sedan, Jaguar Mk1 & II and (ii) Modified British-built classics. There will also be a special "Britalia" feature; a display of Italian-designed British-built cars.
In two-wheel class, there will be a historic display showcasing the evolution and development of motorcycles over the past 50-plus years.
7am – 9:30am Car placement
10am – 4:30pm Gates open to public: Car display, swap meet, vendors, food trucks, exhibitors, car for sale corral & bandstand shows.
10am – 3:30pm Event Merchandise and Regalia for sale—ABFM Tent.
1:30pm – Entrants' Choice and individual class voting closes.
3:30pm – 4:30pm Awards presentation, special prize draws.
Note: all vehicles must remain parked in field position until conclusion of the Award Ceremony at 4:30pm; Vancouver Parks Board Liability Ruling. Gates locked and marshalled; NO EXCEPTIONS.
To enter a British vehicle in the Saturday, May 20, 2017 Vancouver ABFM at VanDusen Garden, click here 2017 Vancouver ABFM Entry Form.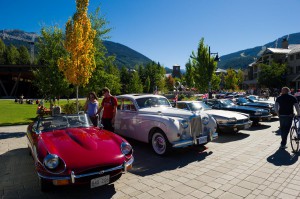 Sunday May 21, 2017, Vancouver All-British Whistler Run
The Vancouver ABFM weekend culminates on Sunday, May 21, 2017 as British car drivers enjoy the opportunity to drive one of the world's most scenic roads, the Sea-to-Sky Highway from West Vancouver to the resort Town of Whistler. Cars will be displayed in the magnificient Olympic Plaza located in the Village Centre.
8am-10:30am Depart Park Royal South Mall, West Vancouver, BC. Complimentary coffee and muffins.
10am-3pm Whistler Village Olympic Plaza car display & exhibitors, prizes and awards. Each Vancouver-Whistler All-British Run car entry receives a metal dash plaque and is eligible for applicable special Prize Draws, including a trip for two.
We have blocked booked a limited number of rooms at the Crystal Lodge for those who wish to spend the night in Whistler. Crystal Lodge, 4154 Village Green, Whistler, BC V0N 1B4 1-800-667-3363. Special rate of $169 Canadian per night plus taxes, single/double occupancy, plus $18 exclusive parking. Email info@cystal-lodge.com, use Group Reference #244078: All British Car Rally
To enter a British vehicle in the Vancouver All-British Whistler Run, click here 2017 Vancouver All-British Whistler Run Entry Form.