Escorted tour of Britain's finest classic & motorsport venues
September 6-15, 2019
Follow us on
Western Driver and the Vancouver All British Field Meet (ABFM), together with travel partners Expedia CruiseShipCenters: Maple Ridge, Venue Select and Air Transat, want you to know that venues have been secured and advance tickets booked, but we still have room for a few more guests.
If you were thinking of joining the tour to spend an entertaining holiday with like-minded classic car enthusiasts, staying in 4-star hotels, transported by luxury private coach while visiting England's fascinating classic car venues, including informative factory tours and marvelous historic sites, now is your last chance to join us.
GET ON BOARD BY JUNE 15 TO ENJOY THE $100 DISCOUNTED RATE.
Goodwood Revival Festival. Brookland's Museum. Haynes International Motor Museum Jaguar Factory Experience. Beaulieu International Autojumble. Bonhams Auction. Portsmouth Maritime Heritage Docklands. Bicester Heritage. Cotswolds. Stratford. Heritage Motor Museum. Brighton Pier. Mercedes Benz Experience. Plus, duty-free shopping and optional historic and cultural venues.
The 2019 Tour includes return airfare with optional departure/return dates, 8-nights' accommodation including 8-breakfasts & 7-dinners & Welcome Reception. Entry fees to all confirmed venues plus luxury coach tour transfers and driver.
A maximum of 26 seats is available on a first-come basis. Please reserve now.
Full itinerary below.
DAY 1: Friday Sept 6, 2019
Leave Vancouver, BC from Vancouver International Airport (YVR) on Air Transat overnight flight to London Gatwick airport.
DAY 2: Saturday Sept 7, 2019
Meals included – Dinner/Welcome Reception
Early Morning arrival at London Gatwick Airport, where we meet our private coach and driver and travel South to Portsmouth for the Solent Hotel & Spa 4-star hotel (2-night stay)  www.solenthotel.co.uk
On route, we make a stop to unwind, stretch our legs and have lunch at the world-famous Maritime Heritage Dockyards featuring Nelson and HMS Victory. www.historicdockyard.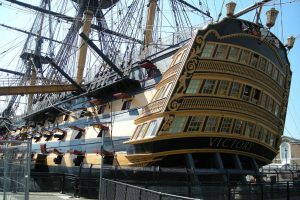 co.uk/
In the evening, socialize with fellow enthusiasts at the Welcome Reception and Dinner at the Solent Hotel & Spa.
DAY 3: Sunday Sept 8, 2019
Meals included – Breakfast & Dinner
Our first full automotive-related day is the world-famous Beaulieu International Autojumble, including Britain's National Auto Museum.
With more than 2,000 exhibitors and more than 40,000 visitors annually, Beaulieu is the largest outdoor sale
of motoring items in Europe. Beaulieu also provides an opportunity to purchase that rare missing part(s) for your classic vehicle or a gift for your car-nut friend.
Other must-visit venues include Palace House and Gardens, the Abbey and Bonhams Classic Car Auction, which are conveniently located within the Beaulieu estate grounds. www.beaulieu.co.uk
DAY 4: Monday Sept 9, 2019
Meals included – Breakfast & Dinner
The birthplace of British motorsport and aviation at Weybridge (1907) is our destination for a full day's visit.  The internationally renowned Brooklands Museum is a spectacular collection of re-engineered buildings in which an amazing collection of motoring and aviation exhibits are displayed and where you can walk on the historic 1907 oval race track. www.brooklandsmuseum.com
You will see and experience land-speed-record racing cars and motorcycles plus many aircraft exhibits, including the British Concorde. There are individual exhibit 'Sheds" that pay homage to motor racing legends such as Cobb, Campbell, Napier and Seagrave and the original clubhouse, which is now home to the British Racing Drivers Club (BRDC).
For those German automotive fans, a visit to Mercedes Benz World is recommended. Located just steps across the park from Brooklands, the free exhibition of legendary MB vehicles is displayed in an inspired venue and worth a visit. Restaurants are located at both venues.
Mid-afternoon we travel to Warwickshire and the 12th Century Wroxall Abbey Hotel and Estate (3-night stay).  https://www.wroxall.com/the-hotel/
Prior to dinner, the hotel's owner will host a short tour and entertaining talk about the Grade 1 listed, Sir Christopher Wren's Cathedral located within the Estate grounds.
DAY 5: Tuesday Sept 10, 2019
Meals included – Breakfast & Dinner

In the morning, we head off to the U.K.'s first purpose-built park for classic car restoration at Bicester Heritage Centre. Housed in a former 1920s RAF bomber station, Bicester Heritage is located on 348 acres and includes a wide variety of classic and vintage car service companies, plus the Wrigley Monkey Brew Pub where lunch is available. Our guided tour of the facilities offers a unique look into the many aspects of classic car ownership and maintenance, all in a unique location within a pre-war, period-correct environment. www.bicesterheritage.co.uk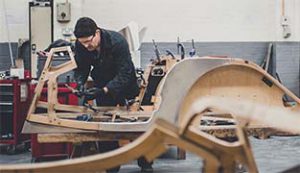 In the afternoon, we depart for the beautiful spa town of Malvern to the iconic Morgan Motor Company factory. (https://morgan-motor.com) Morgan cars are famous worldwide for their unique blend of quality craftmanship and performance.
On completion of the Morgan factory tour, we return to the Wroxall Hotel via Stratford-on-Avon (https://visitstratforduponavon.co.uk for 7pm dinner.
 DAY 6: Wednesday Sept 11, 2019
Meals included – Breakfast & Dinner
This morning we travel to Castle Bromwich to experience Jaguar's state -of-the-art factory production facilities and see how technicians perfect some of the latest models including the new F-Type Sports Car. jaguarexperience.comhttp://www.castlebromwich.jaguarexperience.com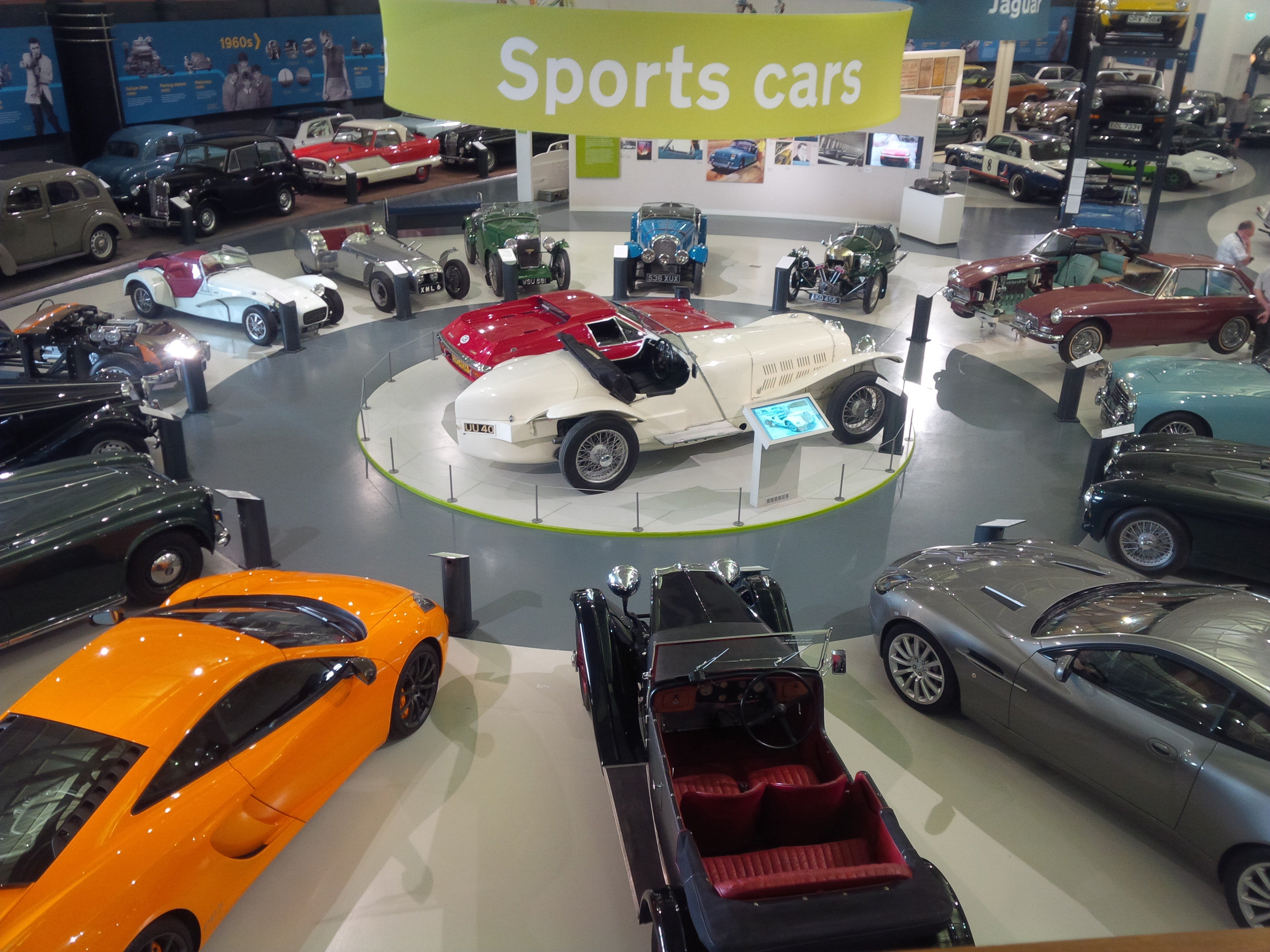 After a pub lunch, we travel to Gaydon and the home of the British Motor Museum in which is housed the largest and greatest collection of classic and vintage British vehicles in the world. www.britishmotormuseum.co.uk
The recently opened (2016), 8-million-pound Collections Centre is a separate building on site showing many rare prototype vehicles and a repair facility.
Return for our last night at Wroxall Abbey Hotel before heading South to the Cotswolds.
Day 7: Thursday Sept 12, 2019
Meals included – Breakfast & Dinner
This is a full day of travel and activities. In the morning, we travel through the scenic Cotswolds district, with a quick stop at the Cotswold Woollen Weavers, where fine woollen cloth has been made since 1982.
Lunch stop will be en route to the Haynes International Motor Museum in Sparkford, where in 1985 John Haynes founded 'petrol-head heaven,' otherwise know as Haynes International Motor Museum.
The collection of cars, motorcycles and automobile at Haynes International Motor Museum has continued to grow, with vehicles from various countries on display. A workshop-and-restoration facility, where mechanical and body fabrication work can be viewed, is included. (www.haynesmotormuseum.com)
Mid afternoon departure for Brighton and our Mercure Brighton Seafront Hotel (3-night stay).
Day 8: Friday Sept 13, 2019
Meals included – Breakfast only.

Supper at the Goodwood Track on your own.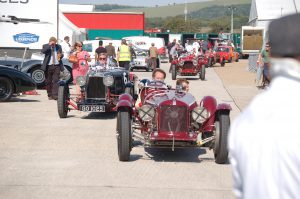 This is Lucky Friday 13 and Day 1 of our main event Goodwood and the Revival Weekend—the world's greatest historic motorsport event and classic car festival.
Friday is mostly qualifying races and the venue is less crowded, but you will still need to pace yourself and avoid trying to see everything.
This world-class, sell-out event is truly a magical step back in time, celebrating the halcyon days of motor racing as it used to be, with all the accompanying spectacle and glamour of the pre- and post-war era.
See www.goodwood.co.uk  and our 2015 & 2017 Tour Gallery www.bestclassictour.com
After a full day of racing action, people watching and supper at the Track on your own, we return to Brighton and an early retirement to prepare for Day 2 at Goodwood.
Day 9: Saturday Sept 14, 2019
Meals included – Breakfast & Farewell Dinner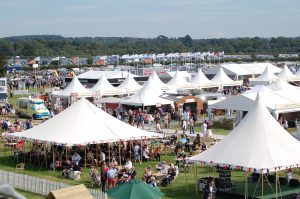 Early morning breakfast and back to Goodwood for a second full day to catch up on everything you missed on Day 1. Saturday is qualifying and racing, so the pace will be quicker as these famous cars and drivers compete fender-to-fender for a variety of trophies.
Get up close and personal with the cars in pre-grid and perhaps see some famous celebrities. Take advantage of the free hop-on, hop-off transportation, which circumnavigates the track and allows fantastic viewing of the cars in action at every famous corner.
Last night and Farewell Dinner at the hotel.
Day 10: Sunday Sept 15, 2019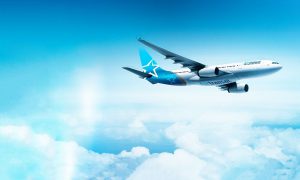 Early morning departure. Pick up boxed breakfast and depart to London Gatwick via coach for return flight, arriving at Vancouver International Airport (YVR) same day.
TOUR ENDS AT GATWICK AIRPORT
TOUR COSTS: Airfare, Accommodation & Ground Tour
Cost: $4,995.00 per person, Double Occupancy
Cost: $6,875.00 per person, Single Occupancy*.
Return Airfare Vancouver/London/Vancouver on Air Transat.
8 nights accommodation, including 7 dinners and 8 breakfasts.
4-star hotels.
Entry fees to all confirmed venues as per itinerary.
Luxury airconditioned Private Coach travel.
Airport Transfers between London Gatwick and hotels.
*If you are a Single booking and prepared to share accommodation, we will try to accommodate your request at the lower Double Occupancy rate.
TOUR COSTS: Ground Tour & Accommodation only
You arrange your own flights to meet the tour schedule
Cost: $4,100.00 per person Double Occupancy.
Cost: $5,900 Single Occupancy
Airport Transfers additional.
DEPOSIT & PAYMENT
C$500.00 Non-Refundable deposit due June 15, 2019. Balance due June 30, 2019.
A maximum 26 seats will be available on a first-come basis.
Trip Cancellation Insurance purchase strongly recommended.