The 32nd annual Vancouver All British Field Meet (ABFM), dubbed The Greatest Show on British Wheels, took place on Saturday May 20, 2017 at the VanDusen Botanical Garden. Featured marques for 2017 were Jaguar Mk 1 & 2 and Modified classics.
British-built vehicles and motorcycles (including military and commercial vehicles) in any condition, including restoration projects, replica, re-engineered and modified vehicles, are encouraged to be part of this annual event. Recognition is given to owners who have done an excellent job of maintaining or restoring their vehicles.
Awards recognize and encourage all levels of interest in the hobby—original, unrestored, debuting restorations to daily drivers. Car entrants vote for first-, second and third-place awards in 62 classes. Entrants do not vote for their own class (click here for the results of this year's Class Awards).
ABFM car entrants also vote for their choices in the following categories from all the cars on the field (480 at the 2017 show): Most Elegant Car; Neatest Little Car; Entrants Choice Overall.
Most ELEGANT CAR—The classiest BIG car at the show: Sponsored by Rolls-Royce Motor Cars
Winner: COLIN GURNSEY from North Vancouver, BC, 1936 Lagonda, Drophead Coupe
NEATEST LITTLE CAR—The cutest, most-fun SMALL car at
the show: Sponsored by Western Driver
Winner: STEVE HARRIS from Parksville, BC, 1934 Austin 7, Saloon
ENTRANTS CHOICE OVERALL—The car that entrants would most like to DRIVE HOME: Sponsored by MCL Motor Cars
Winner: MICHAEL PARKER from Burnaby, BC, 1960 AC Ace, Roadster
——ABFM SPECIAL AWARDS——
The Vancouver ABFM recognizes the outstanding contributions made by various individuals to the automotive and classic car industry by presenting the following three awards: Lew Lewis Award, Motoring Mouth Award and the Edd Award.
Lew Lewis 'Lewie' Award
Lew Lewis, for whom this award is named, was the long-time sales manager at MCL Motor Cards and the top Jaguar salesman in Canada during the early 1980s. The Vancouver ABFM was his favourite event and he never missed the show. The award is presented to an individual(s) deemed to have made an outstanding contribution to the automotive and classic car industry.
The 2017 Lew Lewis Award recognized two individuals in the field of automotive journalism, Tony Whitney and Ted Laturnus. Over the past 40 years, their work has appeared in numerous newspapers and publications in Canada and overseas, including an eight-year stretch with their own memorable television series Driver's Seat, where they were considered the Siskel and Ebert of the automotive world. Tony and Ted have received many awards over the years, including the Automotive Journalists Association of Canada (AJAC) journalist of the year award and each served as president of AJAC. Ted is a Triumph man and Tony more of a Jag enthusiast.
Motoring Mouth Award
Introduced in 2013 in memory of long-time ABFM MC Michael Powley, this award recognizes a person who best represents the true spirit of a classic car enthusiast. Somewhat hard to explain but instantly recognizable for their enthusiasm and passion for the old car hobby.
John Fairclough, this year's recipient of the award, fulfills that image and has been a fixture at the Vancouver ABFM for many years. His many adventures include is particularly well known for driving his Aston Martin Ulster top-down in sleet and snow all the way to Alaska and back!
Edd Award
Myriad volunteers are needed to ensure the smooth running of events like the Vancouver ABFM. Edd Langelier was one of those people who worked every ABFM from the very beginning and that is why this award, introduced in 2016, is named after him in recognition of those who provide excellent volunteerism at classic car events.
Like Edd, Joe Carroll, this year's award recipient has been a tireless volunteer marshal for the last 31 years at the Vancouver ABFM. An MGB GT owner, Joe Carroll also volunteers considerable time to the Vancouver Jag/MG club.
---
ABFM SPONSORED AWARDS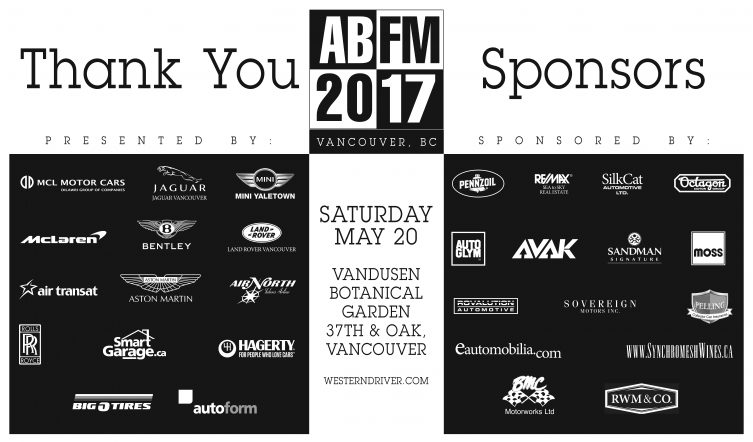 These are judged by a panel of judges—nominated by show organizers Patrick & Joan Stewart—under the direction of chief judges Morris Calvert and Nigel Matthews, using a 12-point system.
Best Original Car, Unrestored (car must be 1987 or prior): Presented by Pennzoil
Judges: Ken Miles; Ed Tretwold: 34 cars judged
Winner: PAUL AUSTIN from Surrey, BC, 1956 Austin A90 Westminster, Saloon
Judges Comments: Best original car we have judged in five years. Original in every way–just as it left the barn. No damage; original paint.
Best First-Time Entrant (must be the first-ever Vancouver ABFM at which the car is shown): Presented by Synchromesh Wines
Judges: Ian Wood; Doug Lorraine; Martin Phillips: 52 cars judged
Winner: JAMIE NEILSON from New Westminster, BC, 1932 MG J2, Roadster
Judges Comments: Beautiful car that in its day set the fashion for British sports cars for many years; vehicle also competed as a Debuting Restoration at the show.
Honourable Mentions: NORMAN THOMAS from Victoria, BC, 1967 Austin-Healey, Convertible; ANTHONY ENSOR from Langley, B.C., 1968 Triumph TR250, Convertible.
Debuting Restorations (3 classes)
Best Debuting Restoration—Under $50,000 spent: Presented by Octagon Motor Group
Debuting Restoration Judges: Morris Calvert, Nigel Matthews, John Allen: 21
cars judged
Winner: JAMIE NELSON from New Westminster, BC, 1932 MG J2, Roadster
Judges Comments: This MG J2 was a project that began in 1981 and was only completed the week before this year's ABFM. We took into consideration the difficulty of the restoration, the body construction and availability of parts. Nothing about the MG would have been easy!
Honourable Mentions: CHRIS MILLER from Shoreline, Washington, 1964 Austin Cooper S, Saloon; LES FOSTER from New Westminster, BC, 1951 Ford Thames E83W, Pickup.
      4. Best Debuting Restoration–$50,000-$100,000 spent: Presented by Sovereign Motors: 5 cars judged
Winner: JASON STOCH from Saanichton, BC, 1963 Austin Gipsy Series IV, LWB
Judges Comments: The Austin Gypsy is also not an easy vehicle to restore or find parts for. The attention to detail was excellent and it was refreshing to see a commercial vehicle that has been restored to such a high standard.
Best Debuting Restoration—More than $100,000 spent: Presented by Autoglym: 5 cars judged
Winner: JONATHAN PARKER from Vancouver, BC, 1962 Jaguar E-Type, Coupe
Judges Comments: What more can you say about an RX Restoration of a one-owner, 35,000 original miles E-Type Jaguar. It's hard to compete with a restoration company that consistently produces Pebble Beach and Ville d'Este winners. Best of all, RX is in North Vancouver.
It was also nice to see so many debuting restorations of all types at this year's ABFM.
Youngtimer Entrant (car owner is aged 30 or younger): Presented by Silk Cat Automotive
Judges: Rhodri Windsor-Liscombe; Kellen Voyer: 5 cars judged
Winner: HELEN POON from Vancouver, BC, 1938 MG TA, Convertible
Judges Comments: A superb example of dedicated ownership.
Best Modified Vehicle: Presented by McLaren Vancouver
Judges: Jim Hilton: 11 cars judged
Winner: BRIAN LAINE from Arlington, Washington, 1933 MG J2, Convertible
Judges Comments: Owner started with an incomplete car. Installed a Ford coupe flathead V8. Other parts that were not available were replaced with race-quality parts. All work was done by Brian and his brother over a 10-year period.
Honourable Mentions: ADAM TRINDER from Vancouver, BC, 1990 Rover Mini, Saloon—mid-engine Mini with Kawasaki power; IAN & DOREEN NEWBY from Vancouver, BC, 1953 MG TD, Convertible—Long-term project for 54 years!
Featured Marque Award: Presented by Hagerty Insurance
Judge: Tony Whitney: 11 cars judged

Winner: GREGORY ANDRACHUK from Victoria, BC, 1966 Jaguar Mk II, Saloon
Judge's Comments: An absolute impeccable example of a beautifully restored Mark II. The owner is also an authority on Mark IIs.
Land Rover Spirit Award—the most unique, vintage, original or special-purpose prepared Land Rover, with characteristics that exceed all others in attendance: Presented by Rovalution Automotive
Judge: Don MacDonald: 10 cars judged

Winner: Bryan Kerrison from Lions Bay, BC, 1998 Land Rover Defender
Judge's Comments: Ex-military Wolf Edition Defender 90. Well-done restoration by owner, with good attention to detail.
Student Judging Award: Presented by Vancouver ABFM
Under the direction of Sgt. Tim Houchen, young people from Vancouver's NASKARZ program pre-select three cars from all the cars on the field. The NASKARZ program is designed to get young people from Vancouver's downtown east side into automotive social and education opportunities.
The cars selected were: 1911 Rolls-Royce Silver Ghost Hooper Limousine—owner John Peirson; 1966 Jaguar E-Type 2+2—owners Simon & Cheryl Scutt; 1972 Triumph GT6  Coupe—owner Earla Preston.
Winner: JOHN PEIRSON from West Vancouver, BC, 1911 Rolls-Royce Silver Ghost
Scoring: (condition, Damage, Quality & Detail of vehicle)—49 out of a possible 55 points
Scoring: (condition, Damage, Quality & Detail of vehicle)—49 out of a possible 55 points
Body—9 out of 10; Interior (includes trunk)—9 out of 10; Engine Compartment—10 out of 10 (all original fittings); Paint—8 out of 10; Tires/Wheels/Hubcaps (cleaniness & detail)—8 out of 10; Bonus—Vehicle is 30 years old or older—5 points
——Motorcycle Class——
   11. Best Motorcycle Overall: Presented by British Motorcycle Owners Club. Special thanks to Nigel Spaxman for arranging a great display of bikes.
Judges: Bill Wilkinson, Ted Laturnus, Cedric Carter: 15 bikes judged
Winner: David Pritchard from Madeira Park, BC, 1970 Triumph Bonneville
Judges Comments: Nicely restored and beautifully presented. This bike was always a favourite of riders in the Sixties and Seventies.

   12. Best Modified Motorcycle: Presented by Western Driver
Winner: Rosemary Woolley from Burnaby, BC, 1969 BSA A65
Judges Comments: This bike is a lovely nod to cafe racers of the Sixties, with numerous hand-fabricated parts.
---
Long Distance Driver Award
Recognizing the Longest Distance Driven to the show in the entrant's car. Sponsored by Autoform Heritage.
Winner: Philip Sandham, 1969 MGB; distance driven 1,746 kilometres.