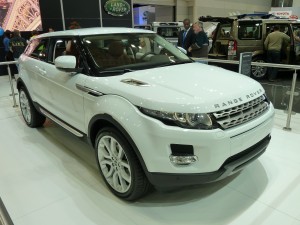 The all-new 2012 Range Rover Evoque has been named the 2012 North American Truck of the Year.
The 2012 Range Rover Evoque was selected over two other finalists, the BMW X3 and the Honda CR-V, based on the following categories: value for the dollar, innovation, handling, performance and safety and driver satisfaction.
The Range Rover Evoque was reviewed by a coalition of 50 automotive journalists, from Canada and the United States, representing all media platforms. Every year, the jurors of the North American Truck of the Year convene to determine worthy vehicle contenders and limit the eligible vehicles to approximately 10 cars and 10 trucks. Based on a points system, the jurors rate the vehicles and send their ballots to Deloitte & Touche's office in Detroit where the selection process is narrowed down to three cars and three trucks with the most points. Once the three finalists are announced, the jurors vote again on the finalists.
The 2012 Range Rover Evoque is the lightest and most fuel efficient Range Rover ever produced. The vehicle stays true to the core values of Range Rover, providing premium levels of craftsmanship, luxury, performance and Land Rover multi-terrain capability, while embodied in a more compact package.
The Range Rover Evoque is available in two versions: a coupe and a five-door, with starting prices of $46,995 and $52,595, respectively. Every Range Rover Evoque in Canada and the U.S. will be equipped with all-wheel-drive and will feature a 240-horsepower, turbocharged, direct fuel injected, four-cylinder engine coupled to a six-speed automatic transmission.
The Range Rover Evoque achieves 28 MPG** EPA estimated highway and 18 MPG** EPA estimated city. This fuel economy is the result of new efficiency technologies, lightweight materials, and environmentally conscious design.
The North American Truck of the Year honour is the latest U.S. accolade that the Range Rover Evoque has received since its launch. It is the first win for Land Rover and the third nomination for The North American Truck of the Year. The LR3 was nominated in 2005 and the Defender 90 in 1994. Additionally, the car has been named Motor Trend's 2012 Sport/Utility of the Year, Autoweek's "Best of Best" Truck, Road & Travel's International Truck of the Year, Decisive Magazine's Urban Truck of the Year, Automobile Magazine's 2012 All-Star Award and Best Luxury Compact Vehicle from Automotive Lease Guide (ALG) and Bloomberg News' Crossover Car of the Year.
** Based on EPA estimates. Actual mileage may vary.