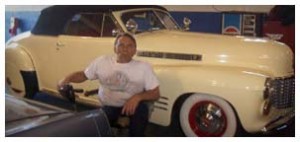 To leave one of Ed Syrocki's standing-room-only ethanol education seminars is to go home amazed, enlightened, and probably a little upset. Syrocki doesn't just claim ethanol destroys fuel lines, wrecks fuel pumps and clogs accelerators—he lets you see the damage for yourself. Find out why Syrocki is on a one-man grassroots campaign to educate historic vehicle owners about the damage ethanol fuel is doing to their engines.
Ed Syrocki just might be the only mechanic in America who's tired of getting paid for his work.
"It about my reputation—my ability to fix an engine," says the owner of EMS Classic Car Care of Warren, Michigan. "It's being called into question because of things I can't control."
What Syrocki can't control is what ethanol-blended fuel does to his customers' engines. Since 1998, Syrocki has specialized in repairing and maintaining all types of historic vehicles.
"From Corvairs to Lamborghinis," he says. "We don't specialize in restoration. We specialize in making these cars run, and run well."